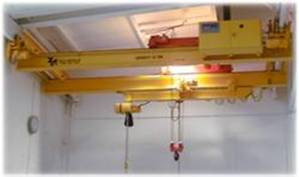 Program Description:

The overhead crane training certification program consists of a classroom training session and a practical training session. All participants must pass both sessions to be certified. Successful participants receive a wallet certificate of achievement.

This program is designed to break through literacy and/or language barriers in its design while, at the same time provide the customer with actual test questions and participant answers. This due diligence measure helps prove appropriate and necessary questions were asked and answered. The program provides participants with a good understanding of the safe and efficient operation of cranes in industry.

Program Crane Operator Training Objectives:
Learn the basic concepts to operate overhead cranes, gantry cranes and jib cranes.
Reduce the possibility of injury to yourself and others
Reduce the possibility of damage to machinery and tooling


Program Content:
The Occupational Health and Safety Act and the legal requirement for using lifting equipment
Review of the Occupational Health and Safety Act and the legal requirement for using an industrial crane including
Responsibilities of the owner, supervisor and worker
Consequences of improper use of a a crane- The function of different kinds of cranes and lifting devices
The lifting capacity of the cranes
Crane load limits
Using different kinds of slings, rigging methods, and the effect of
sling angle
Safe lifting practices (lifting, moving, and placing loads)
Maintaining a safe distance
Proper use of controls (pendent, radio, and cab)
Understanding lifting attachments
Pre-shift checks of the crane
Theory and practical tests
Suggested Participants:
Overhead crane operators, gantry crane operators, jib crane operators, supervisors, group leaders, and health & safety committee members.

Program Duration:
Four hours of group theory training (up to 25 participants) and two hours of practical training in groups of four (maximum).

Who conducts overhead crane training?

Our instructors have many years of crane operating expertise. They not only understand the requirements of current legislation but understand the everyday issues and concerns of crane operators. Their focus is doing everything they possibly can to prevent crane-related accidents at your facilities.

Where does the training take place?

We will conduct crane training anywhere in North America. It is advisable that crane operators be trained on the cranes they will be assigned to use. Use of cranes with different capacities, different attachments, different maneuverability etc. does little to ensure safe use of the cranes at your plants. Practical testing is based of the conditions at your plants and the functions performed at your plants.

How often do crane operators have to train in Canada?

The Occupational Health and Safety Act requires those operating lifting devices such as a crane to be competent. No current CSA Standard currently exists for cranes to suggest a frequency of training.

Many companies use the three year period for re-training as specified in the CSA Standard B335-04 Safety Standard for Lift Trucks since a crane is also a lifting device. The responsibility of the user (company) is to show due diligence (OHSA). It also makes sense to conduct upgrade training for operators when new equipment or modified equipment is introduced, operating conditions alter, applicable legislation is changed, or knowledge deficiencies have been identified