Note: Does not include reference to live work or tree trimming applications.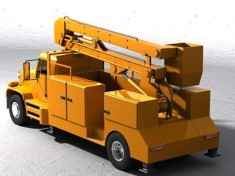 Program Description:
The Vehicle-Mounted Aerial Work Platform Train-the-Trainer program consists of a classroom training session and a practical training session. All participants must pass both sessions to become certified. Successful participants receive a both a full size certificate and a wallet certificate of achievement.

Program Objectives:
The objective is to provide trainers and with the skills, knowledge, teaching skills, and training materials necessary to train other members of the workforce to operate vehicle-mounted aerial work platforms in a safe and efficient manner.

Program Content:

Feeling comfortable in front of a group
Principles of empathy
Effective speaking techniques
Effective body language
Tips for conducting an effective safety course
Principles of good communication
Learning the vehicle-mounted aerial work platform course content including:
- Legal requirements under the Occupational Health and Safety Act and Regulations
- Requirements of Canadian Standards Association Code C225-00 Vehicle-Mounted Aerial Devices
- Pre-shift inspection of the vehicle-mounted aerial work platforms
- Precautions for lifting, lowering, and moving
- Personal protective equipment including fall arrest systems
- Operation of the vehicle-mounted aerial work platforms
- Safe operating practices
- The lifting capacity
- Use of emergency controls
- Theory and practical tests
- Administering theory and practical tests

Program Duration:
One day (seven hours) of theory training (including practice presentations) and practical evaluation with a maximum group size of 3 participants.